17 NOVEMBER- THE NATIONAL REVIVAL DAY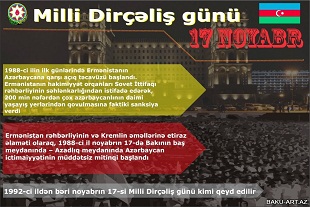 First days of 1988 were marked by the open aggression of Armenia against Azerbaijan. Abusing the indifferent attitude of the Soviet Union's government, the Armenian authorities have, in fact, sanctioned the expelling of more than 200 thousands Azerbaijanis from their permanent places of residence.
On November 17, 1988, the uninterrupted public rally organized by the Azerbaijani society has started in the main square of Baku – the Azadlyg square. People were protesting the actions of the Armenian authorities and the Kremlin.
Since 1992, the 17th of November is celebrated as the National Revival Day.