"Ecological chemistry and environmental " SRL
The laboratory was established in 2001 year under the guidance of Academic Aliyeva Rafiqa Alirza kizi. The main scientific directin of laboratory - determination of metals with organic reagents and methods for their separation.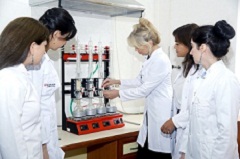 Name list of " Ecological chemistry and environmental " research laboratory
1. Hajiyeva Sevinj Rafig - prof, Head of the laboratory.
2. Mahmudov Kamran Talib – DCS., leading Researcher
3. Aliyeva Fergana Safar - Ph.D. chemical scienses, junior researcher
4. Bahmanova Fidan Nariman - Ph.D. chemical scienses, research associate
5. Mardanova Vusala Ismail - Ph.D. chemical scienses, junior researcher
6. Abilova Ulviyya Murshud - Ph.D. chemical scienses, assistant
7. Mamedova Cinara Allahverdi - chemical scienses, assistant

The main scientific direction of the laboratory - analysis of harmful substances in the natural and industrial objects. For this purpose, a number of physical and chemical methods of analysis . Environmental pollution chemical waste , development of new techniques and technologies , the current level of production require a quantitative determination of substances in industrial facilities , as well as in the environment . Based on an analysis of published data , it should be noted that there are still no methods for determining many elements that meet the requirements of effective analytical control . Therefore, development of methods other than high analytical parameters , always remains an urgent task . A new class sorbents synthesized maleic anhydride-based and studied sorption equilibrium with ions of hevy metals . Laboratory " Environmental Chemistry and Environment " held chemical analysis of toxic substances in the treated industrial water , poured into the Caspian Sea  fnd achieving important environmental and economic results. Based on the results of the analysis , it was determined that the degree of purification of toxic substances in industrial water meets the standards adopted by the plants. Also developed new methods of quantitative and qualitative analysis of industrial water treatment plants taken from"Azerneftyagh" Oil Refinery. These procedures are carried out in accordance with known rules and regulations.
Results of scientific research laboratory since its inception until now reflected in more than 550 scientific works, including 25 textbooks and 19 patents:
1. С.Р.Гаджиева, Ф.Н.Бахманова, Э.Н.Алирзаева, Н.Т.Шамилов, Ф.М.Чырагов. Концентрирование урана хелатообразующим сорбентом на основе сополимера малеинового ангидрида со стиролом // Радиохимия, 2018, том 60, №2, стр. 175-179
2. А.М.Магеррамов, Р.А.Алева, З.М.Алиева, Ф.Н.Бахманова, Ф.М.Чырагов. Концентрирование тория(IV) хелатообразующим сорбентом // Заводская Лаборатория. Диагностика Материалов. 2018, Том 84, №3, Стр. 21-24
3. Магеррамов А.М., Цинцадзе М.Г., Алиева Р.А., Бахманова Ф.Н., Мамедова Ф.О., Аскеров Р.К., Алиева Ф.С., Чырагов Ф.М. Кристаллическая структура комплекса меди(II) с ацетилацетоном и этилендиамином полученного путем темплантного синтеза // Журнал структурной химии, 2017, том 58, №4, стр. 866-868.
4. Магеррамов А.М., Цинцадзе Г.В., Алиева Р.А., Мамедова Ф.О., Алиева Ф.С., Бахманова Ф.Н., Курбанов А.В., Чырагов Ф.М. Синтез, структура, свойства комплекса [Cu(L)Cl]·2H2O // Журнал координационной химии, 2016, №5, стр. 317-320.
5. А.М.Магеррамов, Р.А.Алиева, Г.Г.Назарова, Ф.Н.Бахманова, Р.К.Аскеров, Ф.М.Чырагов. Кристаллическая структура комплекса меди(II) с 3-(2-гидрокси-3-сульфо-5-нитрофенилазо)-пентадионом 2,4 // Журнал структурной химии, 2016, том 57, №4, стр. 834-836
6. Zhen Ma, Manas Sutradhar, Atash V.Gurbanov, Abel M.Maharramov, Rafiqa A. Aliyeva, Farqana S. Aliyeva, Fidan N.Bahmanova, Vusala I. Mardanova, Famil M. Chyragov, Kamran T. Mahmudov. CoII, NiII and UO2II complexes with β-diketones and their arylhydrazone derivatives: Synthesis, structure and catalyitic activity in Henry reaction // Polyhedron 2015, V. 101, p.14-22. Impact factor 3.24 (А).
7. Mardanova S.R., Alieva R.A., Bahmanova F.N., Chyragov F.M. Spectrophotometric In-vestigation Of Complexformation Of Germanium (Iv) With Bis (2,3,4-Trigidroksifenilazo) Benzidine In The Presence Of Cationic Surfactants Active Substances // Journal of Chemistry and Chemical Engineering, 2014, vol 8, number 1, p.21-24
8. R.Solhnejad, F.N.Bahmanova, A.M.Maharramov, R.A.Aliyeva, F.M.Chyragov, A.V.Gurbanov, G.S.Mahmudova, K.T.Mahmudov, M.N.Kopylovich "Uranyl complex with phenolate–sulphonate and diphenyldiazenecarbo- hydrazonate ligands" // Inorganic Chemistry Communications 35 (2013) 13–15
9. Solhnejad R., Aliyeva F.S., A.M. Maharramov, R.A.Aliyeva, F.M.Chyragov, A.V.Gurbanov, K.T.Mahmudov, M.N.Kopylovich "Regioselective C–C bond cleavage in arylhydrazones of 4,4,4-trifluoro-1-(thiophen-2-yl)butane-1,3-diones" // Journal of Molecular Structure, 2013, 1050, 180-184
10. R.A.Aliyeva, V.I.Mardanova, F.M.Chyragov, A.V.Gurbanov, Seik Weng Ng "Diaquabis(N,N-diethylpyridine-3-carboxamide-kN1)bis{4-[2-(2,4-dioxopentan-3-ylidene)hydrazine-1-yl]benzoate-kO}-copper(II)" // Acta Cryst.(2012). E68, m127